Recently, Avalanche and Square Enix studios haven't shared lots of information about the next instalment in the Just Cause action-adventure series. However, the most attentive users of Steam have noticed some new and very interesting information on the project's official page in this service.
So, as it has turned out, having made the Just Cause 3 pre-order, the players will be given a special add-on titled Weaponized Vehicles Pack. It includes several cool vehicles, which are equipped with the various types of weapon:
Mugello Delphino GLF is a speedboat with the seat made of chic Italian leather. It has a dual minigun;
Kerner Serpente R12 is a sports car with a rocket launcher. Such vehicle will definitely be useful during the high-speed chasings;
Urga Pocomaxa X4 is a buggy with two mounted machine guns. This off-roader will help explore even the most difficult places.
Besides the vehicles, the pack contains a sniper rifle titled Final Argument.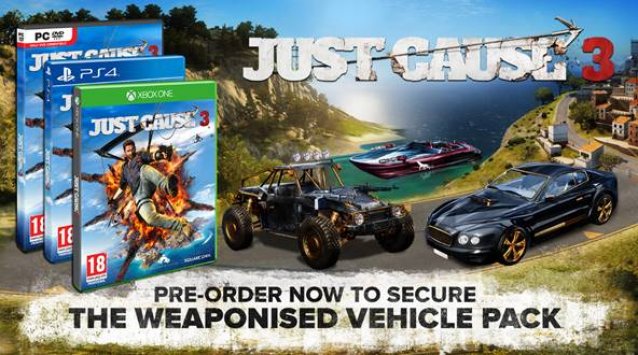 By the way, currently, you can make the Just Cause 3 pre-order with a pleasant 10% discount on Steam. Let us remind you that the exact release date of the upcoming project hasn't been announced yet. The game will hit PC and the current-gen consoles.
So, are you going to make the Just Cause 3 pre-order?