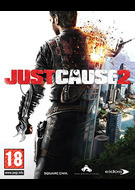 Just Cause 2
You can buy this product on:

$12.79
Just Cause 2 game is an action-adventure with open-world. It is the second part of Just Cause series, and here we will again meet agent Rico. The events of the game take part on the fictional island in Asia, and here our hero will need to save the republic from bloody and cruel tyrant. Just Cause 2 game was released in 2010.
Release date
The Information is specified.
Recently, Avalanche and Square Enix studios haven't shared lots of information about the next instalment in the Just Cause action-adventure series. However, the most attentive users of Steam have noticed some new and very interesting information on the project's official page in this service.
by Olga Smiyanenko
2015-05-07
3052 views
Following the numerous rumors concerning the third part of the Just Cause series, Avalanche Studios company confirmed the development of the new project yesterday. The Just Cause 3 game has been announced on the cover of the GameInformer's December edition.
by Olga Smiyanenko
2014-11-12
3456 views
Rumors that Avalanche Studios working on a "new project" for a long time have been seen over the Internet and the games' forums released by the company. And yesterday, one of the Avalanche founders, Christopher Sandberg, gave another reason for the rumors by posting some game's screenshot .