If you're still thinking whether to pre-order Batman: Arkham Knight or not, then you've just got one more reason to do it. Despite the fact that the highly-anticipated action-adventure will come out in less than a month, Rocksteady and WB Games studios have prepared another pleasant gift for those who will purchase this game before its launch.
Thus, on the project's official page on Steam, the information about the new bonus has appeared. This DLC will be given for all who pre-order Batman: Arkham Knight in the abovementioned service. As for its availability on other platforms, there's no details about it currently. Having bought the project in advance, the players will get two outfits for Dark Knight - from the Batman Beyond animated series and from the Frank Miller's comic book titled The Dark Knight Returns.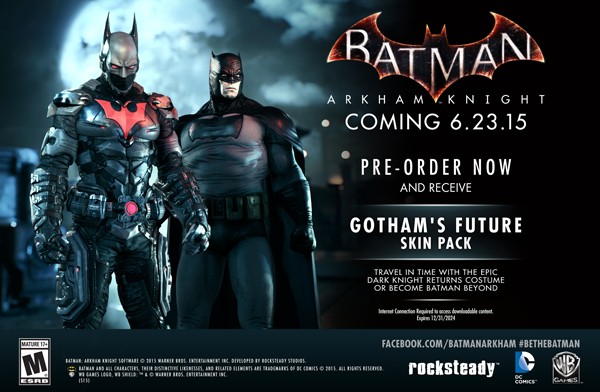 Besides, Sony company has published the latest Batman: Arkham Knight trailer. It's dedicated to the exclusive content, which the owners of the game's version on PS4 will receive.
The presented Batman: Arkham Knight trailer demonstrates the suits of the main character from the Justice League 3000 comic book series and the classic TV show, the batmobile's skin and the missions from the Scarecrow Nightmare DLC. All this content will become available for the owners of the current-gen console from Sony at project's launch - on June 23rd.