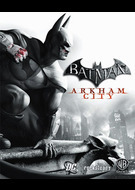 Among all RPG games one of the most famous is Batman: Arkham City. Although the game was released in the 2011, it still remains one of the most popular and beloved around the world, despite the constant release of the new projects. There're variety of weapons, unique locations, and also fun and exciting storyline that is wanted to go through over and over again! If your dream about traveling, fighting with the Evil and feeling combat excitement - the Batman: Arkham City game is for you! You will be able download Batman: Arkham City for free during the events time in the digital stores.
As you remember, the release of the new action-adventure - Batman: Arkham Knight - on PC at the end of June turned out to be a real disaster. The players from all over the world faced lots of technical issues in the game's computer version.
by Olga Smiyanenko
2015-09-04
5224 views
Along with the launch of the latest Batman: Arkham Knight add-on, about which we told you in the previous news, Warner Bros. company has revealed its September plans for the project's DLCs.
by Olga Smiyanenko
2015-08-19
2333 views
On the official page of Batman: Arkham Knight action-adventure on Steam, the information about the update for the project's computer version has appeared. According to the message from the game's publisher - Warner Bros.
by Olga Smiyanenko
2015-07-20
2694 views