Ubisoft continues pleasing its fans with lots of fresh news. Thus, yesterday, we told you when to expect Tom Clancy's The Division launch and showed you three new videos of the future project. In addition, the developers have announced two special bundles of this game.
The first Tom Clancy's The Division edition is titled Sleeper Agent. It's already available for pre-order at Ubisoft's official online store - Uplay - as well as at the other major retailers. The bundle includes the following content:
a copy of the shooter;
The Agent Watch Replica which works and highlights the same way as the watch in the game;
The Agent Armband that can include several valuable items;
an artbook with the project's concept arts;
a poster;
an exclusive box;
a Season Pass. It will give access to all shooter's DLCs, which will be released during a year after the game's launch, and to some other exclusive content.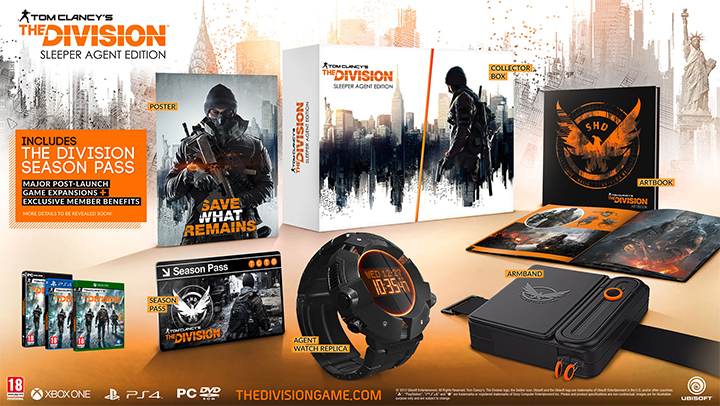 The second Tom Clancy's The Division edition - The Gold one - will contain only the project's copy and a Season Pass. It will cost about $100 while the price of the previously mentioned bundle will be $160.
However, regardless of which Tom Clancy's The Division edition the players will purchase, they will receive access to the shooter's upcoming beta. According to the official information, the testing on Xbox One will be held at the end of this year and on PS4 and PC - in early 2016. By the way, everyone has a chance to participate in the future beta, even if they don't buy any of Tom Clancy's The Division editions. The players just have to follow the necessary steps at the project's official site.