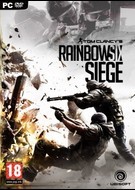 Tom Clancy's Rainbow Six: Siege
You can buy this product on:
$21.59

$33.99
Social medias had been struck by some important news lately. First of all. .
by Anna Stepko
2016-07-28
2562 views
Ubisoft studio has reported that Rainbow Six: Siege beta, which started last Thursday - on September 24th, - will end later than it was expected. Originally, this testing had to last till today - September 28th, - however, the developers of the future project have extended it for a couple more days.
by Olga Smiyanenko
2015-09-28
16741 views
As Ubisoft company has announced recently, the Rainbow Six: Siege release - is rescheduled for a later date. But you should not get upset, because the launch of the future game will take place this year anyway.
by Olga Smiyanenko
2015-08-19
2396 views