The Bloodborne game will be released in a few months, so it's quite logical that its creators have decided to share the information about the pre-order bonuses and the editions, in which the forthcoming project will be available.
Thus, a couple of hours ago, an article, in which two editions and the pre-order bonuses of the upcoming action-RPG are revealed, appeared in the Playstation's European blog. But let's talk about everything in order.
We will probably start from the bundles. According to the official information, the developers offer us two Bloodborne editions. The first one is titled Collector's Edition and costs €79.99, while the second Bloodborne edition - Nightmare - can be purchased for €119.99. So which interesting items are included in these bundles? Let's find out together.
So, the first Bloodborne edition contains the following things:
1) the game's copy on PS4;
2) the book with the exclusive concept arts inside;
3) the steelbook;
4) the official digital soundtrack of the forthcoming action-RPG.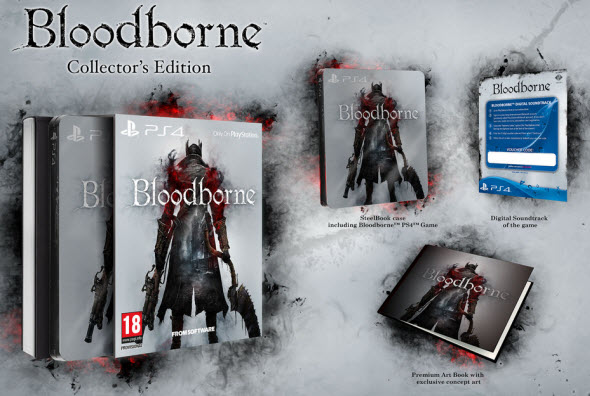 The game's second bundle will let you enjoy the abovementioned items as well as the project's notebook made in gothic style, the set of the red ink with the quill, "Top Hat" Messenger skin and the bell tricket.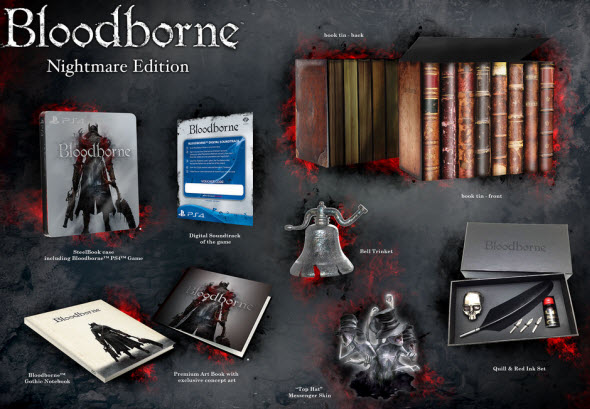 As for the pre-order bonuses, which will be offered only by the selected retailers, you will be able to get one of two Messenger skins - "Fedora" and "Bandages" - or "Saw Cleaver" steelbook with the exclusive arts inside.
Are you interested in some specific Bloodborne edition? What do you think about the offered bonuses? Your replies can be left at the bottom of the page.