The anticipated new instalment in the beloved Mortal Kombat series will be launched less than in a month, that's why it's not surprising that the latest time there is so many fresh and interesting information about this project.
Thus, a few days ago, the developers presented the game's new trailer, in which another one character - Jason Voorhees - was shown. And already today, we'd like to share the information about the delay of the project's release on the last-gen consoles. Let us remind you that these game's versions are developed by High Voltage Software studio and not by The NetherRealm as the last ones. So, a rumor that Mortal Kombat X release date (on Xbox 360 and PS3) was postponed appeared a couple of days ago on the well-known forum - NeoGAF. A bit later, the range of online stores, among which there is Amazon.com, changed the Mortal Kombat X release date from the 14th of April to 30th of June. And after that, the project's publisher - Warner Bros. Entertainment, - answering the questions from the leading gaming portals, has confirmed this information.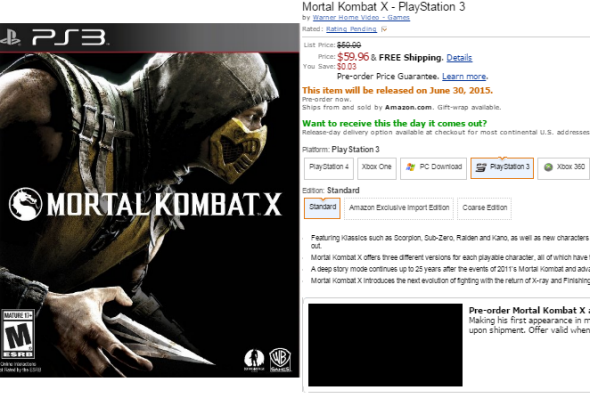 According to the publisher's data, Mortal Kombat X release date (on the last-gen consoles) is scheduled for summer, while the launch of this anticipated fighting game on Xbox One, PS4 and PC will take place on the 14th of April. The reason of the delay as well as the exact terms of its appearance on PS3 and Xbox 360 are unknown.
Also, the developers have presented the long and interesting Mortal Kombat X video, in which they tell about the game's cast and story mode. Enjoy!