The launch of the anticipated Mortal Kombat X game will take place less than in a week, but it seems that some lucky players have already managed to get their copies of this cool fighting project.
As a few of Reddit users state at once, they have already got their copies of the game and managed to test Mortal Kombat X. Most of them like the project very much and hasten to share some fresh information about this fighting with the rest of players, who have still been waiting for the project's official release. Thus, they say that recently the first Mortal Kombat X update has been launched. The rest of gamers will get it on the day of the project's release. According to the infomation from these lucky guys, this Mortal Kombat X update improves the game's stability and the multiplayer's invitation system, fixes minor bugs and problems with the gameplay and balancing as well as brings some corrections to the project's localizations. The size of the game's first patch is 1.8GB. Currently, all listed information, which we ask you to take with a grain of sault, concerns the PS4 version of the project, but it's quite possible that the first Mortal Kombat X update for PC and Xbox One will be almost the same.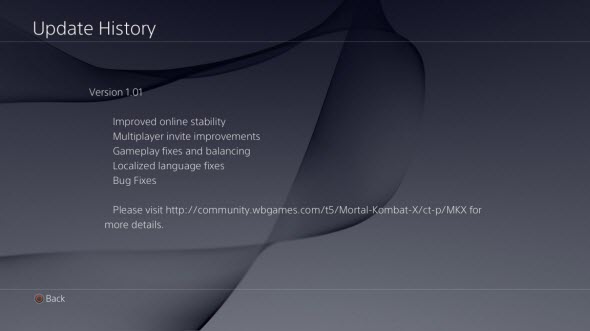 Besides, two hours ago, the developers presented Mortal Kombat X launch trailer, which this time is dedicated to the game's soon release on the mobile platforms. Let us remind you that earlier the first Mortal Kombat X launch trailer was published. It is devoted to the PC and current-gen versions of the upcoming game. You can watch it here.