Sony company has shared some pleasant news, which first of all will be interesting for those who are planning to pre-order GTA V on PS4. So now, the players will be able to not only purchase the next-gen version of the popular action-adventure but also receive a great bonus for this deal.
According to the official information, the users who pre-order GTA V on PS4 will get $300.000 of in-game currency. It's worth mentioning that this offer concerns only the project's digital copy. The money are intended to be used in the multiplayer mode - GTA Online. It will be an additional sum to the previously announced $1.000.000 in-game currency, which is a gift for pre-ordering this action-adventure to all the players, regardless of the platform and the format.
However, there are two necessary conditions to be fulfilled in order to receive $300.000:
Besides that, the rumors about the project's earlier release on the next-gen console from Sony have appeared online recently. The reason of such information is a screenshot, made from the PS Store's pre-order page by journalists of the German gaming portal.

As we see on the image, the launch date of GTA V on PS4 is set for November 4th. However, after some time, the game disappeared from this list. Neither Sony's representatives nor the developers commented whether it was a mistake or not.
And finally, we'd like to share another news about the upcoming porting of GTA V on PS4. According to the information published on the PlayStation Network forum, the game will require 50GB of free space on the console's hard drive. Moreover, it will support the motion control option.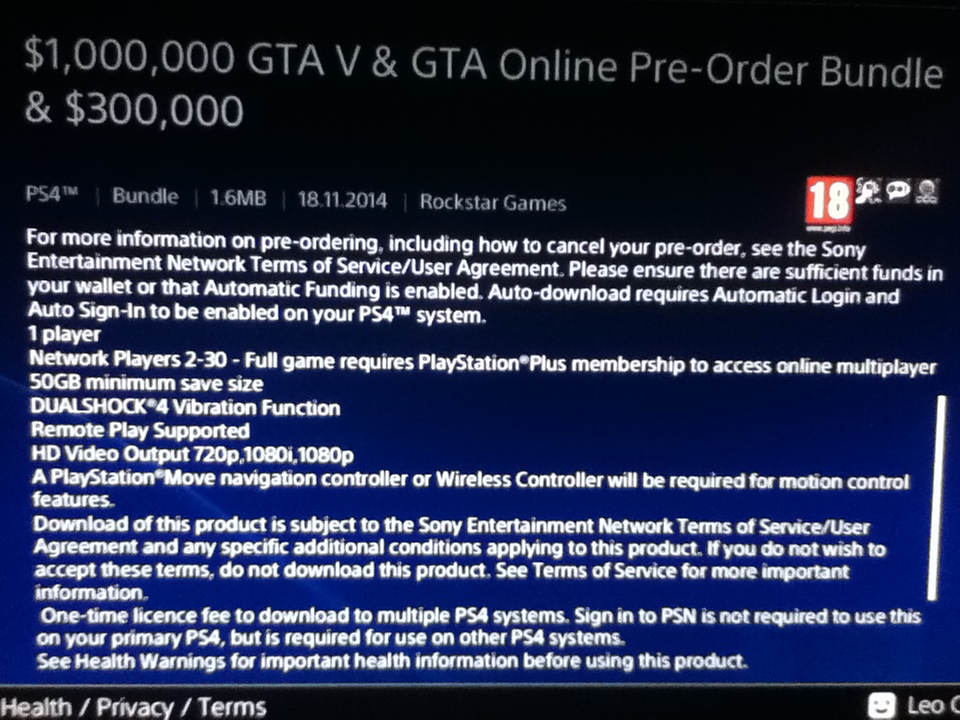 For the current moment, the project's creator - Rockstar Games - hasn't confirmed this.