Yesterday Grand Theft Auto V received an update: a new mode for GTA Online. As announced previously, the Adversary mode is called "In and Out". It is described as an "intense" version of Capture. It challenges one team of attackers to steal eight packages while a side of "well-armed" defenders try to stop their advances.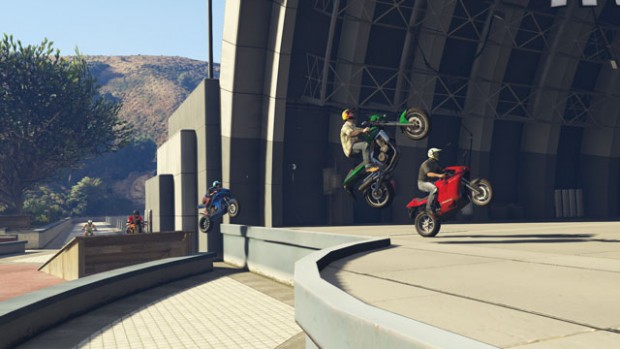 Rockstar hasn't presented any official footage of this mode yet. However, its videos have started to show up on YouTube, including the one from The Almighty Gamer below. Check it out:
In and Out is just the latest GTA Online mode that Rockstar has added to the game since launch. Before this one there was Inch By Inch, which came to the game in April.
The bonus for everyone who plays In and Out through the Adversary mode playlist: they will earn double XP until May 5. This is offered as a part of a weeklong event called "In and Out" week; other modes offered double XP before this. Additionally, GTA Online's Ammu-Nation store is offering a sale on guns, explosives, and more. Below is a rundown of what's on sale.
Grenades - 20% off




Sticky Bombs - 20% off




Assault Rifle Mods - 25% off




Combat MG - 25% off




SMG Ammo - 50% off
By the way, the multiplayer mode has already brought in more than $500 million in revenue from microtransactions.