As the producer of the iconic Mortal Kombat franchise - Ed Boon - has reported, the recently released tenth instalment in the series will get a new character. He told this news while answering the question from one of the users in his Twitter account. Another playable hero or, to be exact, heroine is Tanya. She's a part of Mortal Kombat X DLC titled Kombat Pack.
According to Ed Boon, Tanya will appear in the project at the beginning of June. However, he hasn't specified the exact date. She will be the second fighter, who will be brought to the game by the abovementioned Mortal Kombat X DLC. Let us remind you that earlier the project got Jason Voorhees - a maniac from the Friday the 13th horror franchise.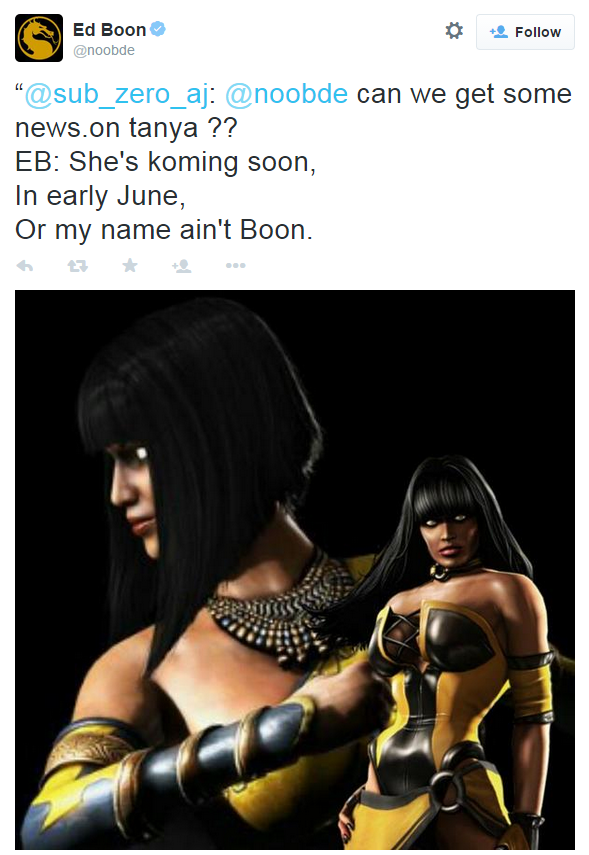 The first appearance of Tanya in the legendary fighting game series took place in Mortal Kombat 4. She's related to the Edenian race and is known for being an ally of the main villains. On the battle arena, Tanya became famous thanks to her unique dexterity and flexibility as well as for the usage of the various acrobatic feats.
The Mortal Kombat X DLC - Kombat Pack, - which is included into the project's Season Pass, also contains two more characters - Predator and Tremor. They will hit the game a bit later. Besides, as it's reported, in early June Mortal Kombat X will get not only a new character but also some additional outfits for the fighters.
UPD.: Tanya will appear in Mortal Kombat X on June 2nd for the Kombat Pack owners and on June 9th for the rest players.