The next part in the Mortal Kombat fighting series will hit the media market on April 14th, so yesterday WB Games company announced four special Mortal Kombat X editions, among which there are two Kollector's bundles as well as the Premium and Limited ones. And now, we'd like to share with you the information about their content.
So, the first Mortal Kombat X Kollector's Edition - by Coarse - costs $149.99 and is available only on PS4 and Xbox One. It includes an exclusive figurine of Scorpion, the unique design of which was created by Coarse studio. Besides, this bundle contains access to The Kombat Pack with four playable characters and the in-game Gold Scorpion skin.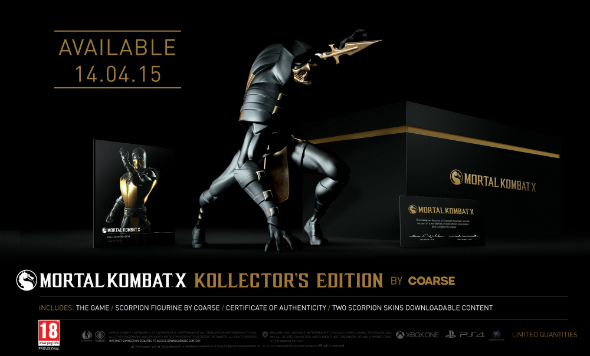 The second Mortal Kombat X Kollector's Edition is priced at $179.99. It's also available only for the PS4 and Xbox One owners. This set has the following content:
The Kombat Pack;
Gold Scorpion skin;
handmade Scorpion statue, which is 28cm tall;
first issue of the Mortal Kombat X: Blood Ties comic book;
exclusive steelbook and card.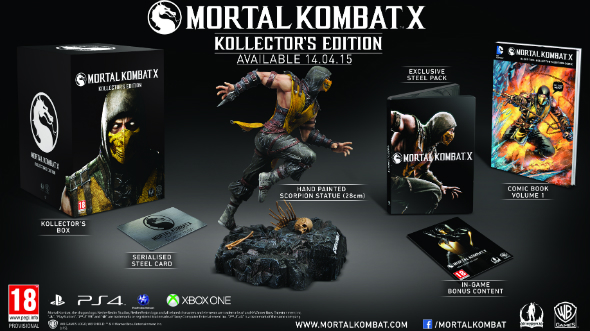 The next Mortal Kombat X edition - the Premium one - costs $89.99 and is available on all platforms, but only for download. Having purchased it, besides the project's copy, the players will get The Kombat Pack.
And finally, the last Mortal Kombat X edition - the Limited one - is available on PS4 and Xbox One. Its price is $94.99. The bundle includes The Kombat Pack and the exclusive Scorpion skin, which was created by NetherRealm studio in collaboration with an artist from MKKollective community.
Let us remind you that earlier the Mortal Kombat X system requirements for PC were revealed.