Far Cry 4 was released only a month ago, but it seems that the series' creators - Ubisoft company - have already begun to develop the next instalment in this amazing and a bit crazy franchise.
The conclusion that Far Cry 5 game is already in works is based on the survey, which recently has been sent to some selected Uplay users by Ubisoft. The fresh questionary, which will take 20 minutes of your time, concerns the next part in Far Cry series. It is obviously that the developers have decided to ask for help the gamers in order to make the next shooter in this franchise more interesting and the one, which will satisfy the biggest part of the players' wishes. So, how will the series' fans be able to help in the creation of the next instalment in Far Cry franchise?
First of all, the employees of Ubisoft are interested in the setting of the future Far Cry 5 and offer more than 10 variants of the locations - from the jungles in Peru, the island in Jurassic Park style to the world, in which the zombies or the vampires rule. Besides, the developers would like to know, which fresh features Far Cry 5 game should have, аnd which changes you'd prefer to see in the cooperative mode and the single player campaign.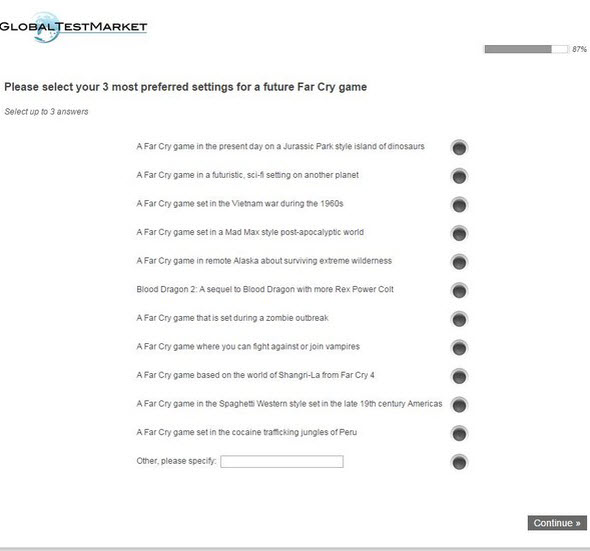 Anyway, one thing is known for sure - Far Cry 5 game has been being developed, and it's quite possible that already soon we will get to know the first official details about it.
Have you taken part in this survey? Are you waiting for the next shooter in Far Cry series? Write us below the news.