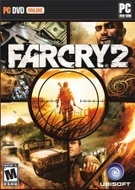 Far Cry 2 game is a sequel to Far Cry, but this first-person shooter has less similarities than differences comparing to the first part of the game. Far Cry 2 has new characters, settings and an absolutely new style of gameplay that allows the player to explore more easily different African landscapes. You can download Far Cry 2 for PC, Xbox 360 or PS3.
Release date
The Information is specified.
Recently, the really intriguing news for the real fans of Far Cry shooter series has appeared online. Thus, at the German department of Amazon shop, the new bundle of Far Cry 4 - Complete Edition - has been spotted.
by Anna Stepko
2015-05-05
3384 views
Yesterday, Ubisoft studio pleased the players of the fourth instalment in the Far Cry shooter series with some new interesting content. The company released the project's next add-on titled Overrun on the current and last-gen consoles.
by Olga Smiyanenko
2015-02-11
3587 views
Although the first week of February hasn't been very rich in the different game news, but nevertheless some interesting announcements and other exciting events have taken place during these 5 days. And exactly about them we are going to tell you in our today's game news digest.
by Anna Stepko
2015-02-06
7561 views