The anticipated Far Cry 4 game will be released quite soon, so it's not surprising at all that there are lots of buzz around this shooter lately. Only a few hours ago, the picture, which seems to be a full Far Cry 4 map, according to the user, who uploaded it, leaked online.
Thus, Far Cry 4 map, which is published below, has been uploaded on an online image hosting service entitled Imgur. As you may see, Far Cry 4 map is hugeand divided into 6 big sections, which are marked by the different colors. According to the information, presented below the map, the zones are divided by the economical criteria, i.e. the section with the farmlands is painted in dark sandy color, the industrial zone - in brown, and the place, where there are a lot of dense and impenetrable forests, - in dark green respectively.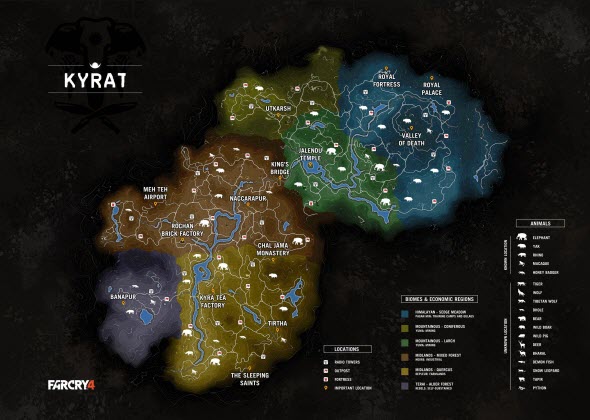 Besides, the leaked Far Cry 4 map lets us see the main game's locations, the quantity of which is 14, as well as other important outposts, radio towers and different fortresses. But that's not all. Also, down in the left corner of the map, there is a list of animals, whom you can encounter during your adventures in the game. Here, in the Himalayas, you can meet 18 types of wild animals! Not only a bear or a tiger can lie in wait for you but also a savage yak, a rhinoceros or even a bharal may appear on your way. It sounds intriguing, doesn't it?
For the current moment, the representatives of Ubisoft haven't commented on this leakage, so we strongly advise you to treat this information with a grain of salt.