A bit more than a week ago, we told you about the bonus for those who pre-order PS4 version of the game, and already today are hasten to share the freshest GTA 5 news.
Thus, recently, the post, concerning the GTA 5 beta on PC has appeared on the official Rockstar Games' site. According to the fresh information, the developers of one of the most popular action-adventure series - Grand Theft Auto - aren't going to hold GTA 5 beta on PC, and that's why they ask all gamers to be very attentive and not to believe any third-part source, who argues the opposite. If you are offered to sign up and take part in GTA 5 beta on PC, then you should be aware because it's a fraud or a source's attempt to draw as much attention to its site as possible.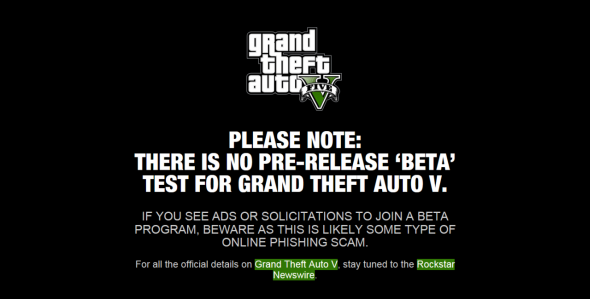 But that's not all GTA 5 news for today. Also, recently, it has become known that 30 minutes of new music will be added to GTA 5 on PC, PS4 and Xbox One. Thus, according to the daily Internet publication devoted to music criticism, news and artist interview - Pitchfork, - FlyLo FM will get lots of new tracks, which will last about half an hour. As Pitchfork journalists affirm, there will be an exclusive track from Doom game series as well as some collaborative work between Anthony Henderson, known as Krayzie Bone, and American electronic musician and rapper Steven Ellison (Flying Lotus). 
For those who haven't heard FlyLo FM and do not know which compositions are broadcast there, we suggest listening to one of his tracks:
Did you like the fresh GTA 5 news? Are you upset that there won't be GTA 5 beta on PC? Let us know below.