Last week, we told you very interesting rumors about the forthcoming GTA V on PC and now would like to share some very intriguing news about the new anticipated GTA V DLC titled Heists.
Thus, the fresh rumors about this add-on have been revealed by a hacker, known as NillxModz, who previously shared the interesting and trustworthy information about the different projects. This time, he has told when GTA V DLC release date will take place and what will be included in this add-on. First of all, we'd like to specify that the hacker has got the below mentioned information having analysed the game's original code and compiled all the data.
So, according to NillxModz, this GTA V DLC release date is set for the 23rd of December, and the Heists add-on will be released in the already launched game's versions - Xbox 360, PS3, Xbox One and PS4.
Besides, it has become known that the new GTA V DLC will offer:
- 6 new Heists missions in 4 unique locations;
- 5 jobs in the new Cops and Crooks mode, which will also be available in 4 locations;
- 34 texture modifications for 4 different locations;
- 3 brand new vehicles;
- 3 Heists-themed clothing items;
- new apartment with CCTV function and two AI-characters (but only for the current-gen versions of the game);
- 2 themed masks for Cops and Crooks mode (only on PS4 and Xbox One);
- 5 new hairstyles and 2 contact lenses, which will let you change the color of your characters' eyes;
- 1 phone contact named Jeff, who will be able to resurrect a killed-off Crew member during your Heist operation;
- new menu for the Heists and the ability to plan them: choose the place, the members of the crew and their role thanks to the 'Email' app on the gamer's phones;
- improved anti-cheat methods.
We'd like to remind you that for the current moment the abovementioned information hasn't been confirmed or denied officially, so we ask you to treat it with a grain of salt and wait for the news from Rockstar.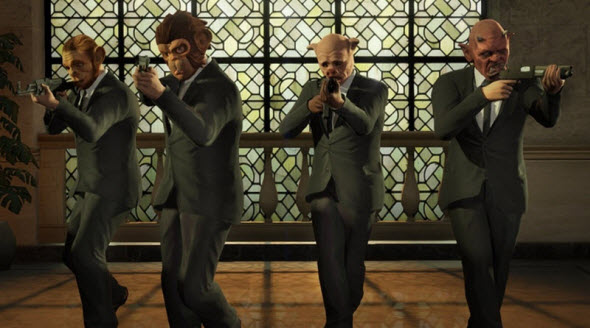 And what do you think about this information? Are you waiting for this GTA V DLC? Let us know below.