Only a few hours ago, we familiriazed you with Resident Evil HD Remaster system requirements and now would like to announce, which specifications your PC should meet in order the forthcoming Evolve game launch and work normally.
Thus, two hours ago, the project's developers decided to rejoice the fans of the upcoming cooperative shooter, having revealed Evolve system requirements. But we'd like to notice that some parameters may seem to be very high, especially it concerns the available space on a hard disc. But let's talk about everything in order.
So, as usual, the first Evolve system requirements are the minimum ones. Here they are:
OS: Windows 7, but only 64-bits;
CPU: Intel Core 2 Duo Processor E6600 or AMD Athlon 64 X2 6400;
Hard Drive: 50GB;
RAM: 4GB;
Video RAM: 1GB;
Video card: NVIDIA GeForce GTX 560 or ATI Radeon HD 5770.
But if you want to be sure that you will be able to use all game's features for 100% in the highest quality, then we suggest you reading Evolve recommended system requirements:
OS: Windows 7 64-bits;
CPU: Intel Core i7-920 or AMD A8-3870K;
Hard Drive: 50GB; 
RAM: 6GB;
Video RAM: 2GB;
Video card: NVIDIA GeForce GTX 6700 or ATI Radeon R9 280.
Besides, the developers have announced that for the current moment the game works in the 4K resolution, and in the near future they are planning to add SLI support.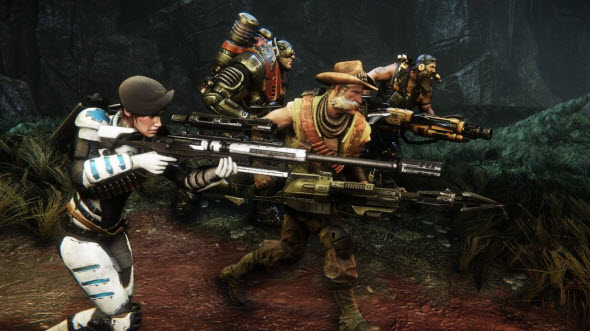 Does your PC meet the presented Evolve system requirements? Are you anticipating this game? Leave your replies below.