Besides the announcement of Uncharted 4: A Thief's End launch terms, Deus Ex: Mankind Divided release date has been specified recently. Also, Square Enix company has revealed the details of its new special pre-order system.
As it's reported, Deus Ex: Mankind Divided release date is planned for February 23rd, 2016. And thanks to the "Augment your pre-order" deal, the players have a chance to get this game several days earlier. What's so special about this offer? According to the developers, the bonuses for Deus Ex: Mankind Divided pre-order are split up into five levels. Thus, on the first level, the gamers will get one of three outfit packs at their choice. The second level is 25% from the global pre-orders. The developers will give the players either a digital artbook or a part of soundtrack (yep, not all). If Deus Ex: Mankind Divided pre-orders achieve 50%, the project's creators have prepared an additional mission titled Desperate Measures. For the fourth level (75%), the gamers will get the digital version of a comic book or a novel at their choice. And finally, on the fifth level (100%), the future action-RPG will come out four days earlier the announced date, i.e. on February 19th.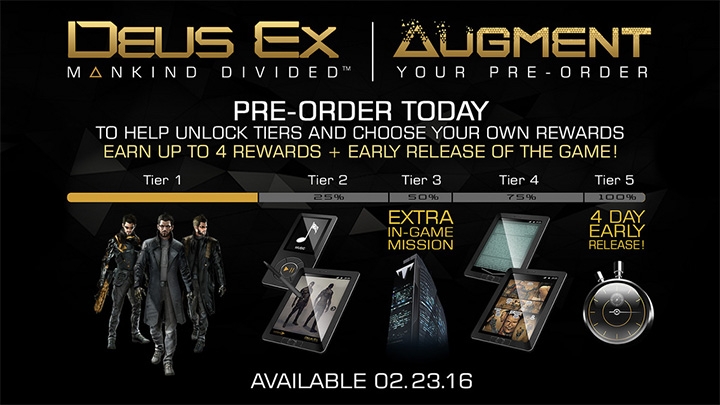 But if you want to get everything at once, the developers offer to make a pre-order of Deus Ex: Mankind Divided — Day One Edition. This bundle includes all listed above bonuses (besides early access) as well as a figurine of Adam Jensen, an exclusive steelbook and an art book (48 pages).