Yesterday, CD Projekt RED studio released the next patch for The Witcher 3 on PC. Let us remind you that the previous update for the computer version of the project came out on May 21st. It fixed some bugs as well as optimized the game's performance. The latest patch for The Witcher 3 on PC also includes a bunch of improvements and fixes. And in order players get more information about the last ones, the developers have published the detailed notes.
So, the new update for The Witcher 3 on PC:
eliminates the absence of translations in some localized versions;
fixes the bugs with dialog looping and boat stuttering in the cutscenes;
improves the project's UI and the texture rendering for the high and ultra settings;
contains a number of fixes in Nvidia Hairworks performance;
adds an ability to rebind all keys;
liquidates the problems with 1280x720p resolution and names with non-Latin symbols while transferring the savings from The Witcher 2 as well as bugs with cloud combustion, AI of the warriors affected by the Axii Sign and alt+tab combination;
improves the game stability.
However, the news about the launched patch for The Witcher 3 on PC is not all. On the official FB page of the franchise, CD Projekt RED studio has announced two new The Witcher 3 DLCs. They will be free, by the way. The first one includes the additional quest titled Contract: Missing Miners. The players will have to investigate the mysterious disappearing of miners in a small village on Skellige Islands.
The second The Witcher 3 DLC will offer to see Yennefer of Vengerberg in a new light. The add-on is titled Alternative Look for Yennefer.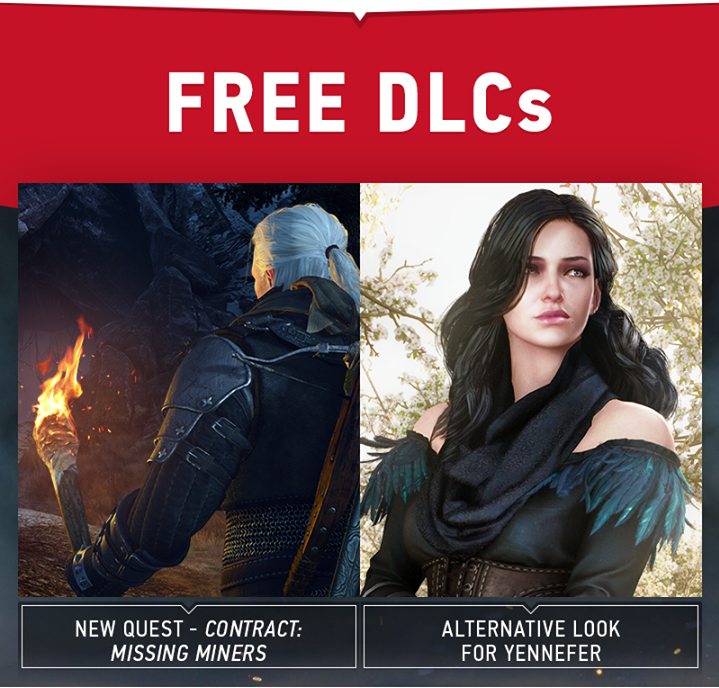 Both presented The Witcher 3 DLCs are supposed to come out already this week.