The Witcher 3: Wild Hunt game was released almost a month ago, and all this time its creators have been working hard to fix its existing problems and bugs in all project's versions and to create some new content for the players. And today we are going to tell you the freshest The Witcher 3 news which concern these both points.
Thus, yesterday, CD Project RED employees announced the new The Witcher 3 update - 1.04, - which is designed for Xbox One and PS4 versions of the game. First of all, we'd like to specify that this The Witcher 3 patch, which is already available all over the world, is quite big and includes more than 80 various fixes. So, the freshest The Witcher 3 update:
- has brought lots of fixes in the protagonist's vitality regeneration, in-game communities as well as some issues related to horseback riding, combat and certain actions, which could be randomly blocked during the gameplay;
- has improved Geralt's movements (especially when he swims), the performance in some scenes and cutscenes as well as the general stability of the project;
- has eliminated the autosaves when the protagonist dies;
- has added a couple of color-blind friendly features;
- has fixed the issues when a player could not talk or interact with some NPCs, when the reward messages were displayed over black screens and the female travellers had the incorrect names in certain localized versions of the RPG.
Also, the new The Witcher 3 patch has brought a rang of changes related to the characters and multiples quests as well as has fixed some problems in the GUI and HUD. You can read more details about this The Witcher 3 update by clicking on this link.
Besides, the developers have announced two more free The Witcher 3 add-ons. The first The Witcher 3 DLC, which is already available for download on PC, is titled Fool's Gold. Here you as Geralt along with a village idiot will have to learn the secret of an abandoned settlement, which is inhabited by pigs now. The second The Witcher 3 DLC - Ballad Heroes - will provide the players with lots of new cards for Gwent game.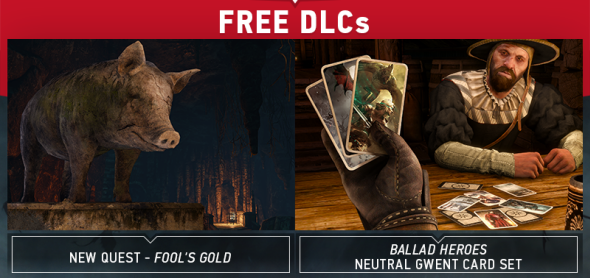 What do you think about these The Witcher 3 news? Have you already downloaded the fresh patch or the free add-on? Let us know below.