Just yesterday, we told you about a new teaser of the upcoming project, which is based on the popular A Song of Ice and Fire novel series and its TV adaptation. And today, we are ready to share with you the latest Telltale's Game of Thrones details. Finally, the developers have revealed some information about the plot of the future game as well as have announced the platforms, which it's going to hit.
As it was known before, the Telltale's Game of Thrones will uncover a story of the Forrester family. "Caught up in the events of The War of the Five Kings, they are placed in a precarious position where members of the household must do everything they can to prevent the house from meeting its doom", - Telltale has told.
Also, the studio's representatives have noted that the events of the Telltale's Game of Thrones will unfold in the period between the ending of the TV series' third season and the start of the fifth one. During the walkthrough, the players will see not only the familiar locations, such as The Wall and the King's Landing, but also the totally new ones - the Forresters' House and the stronghold called Ironrath.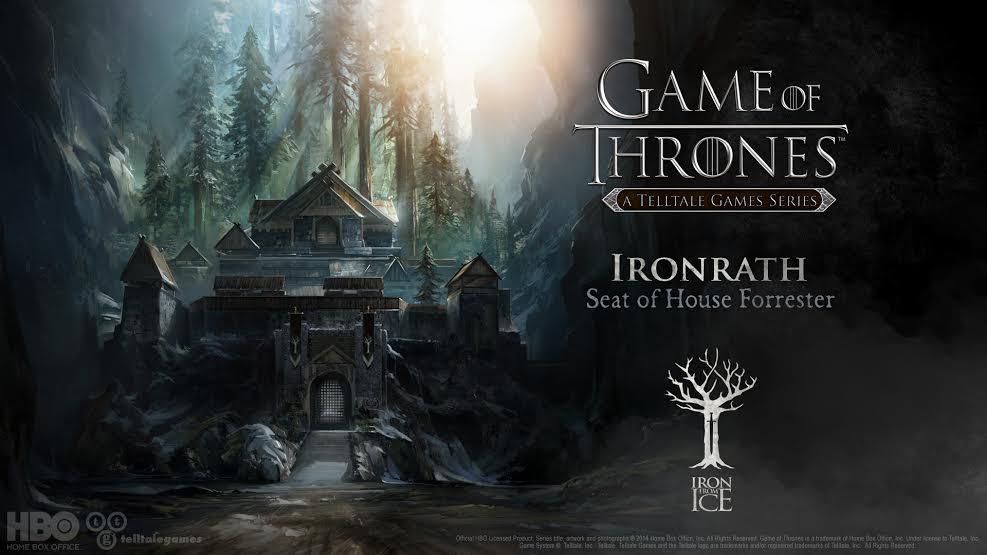 By the way, the last one has got its title for a reason. This citadel is situated in the biggest iron wood of Westeros. This place has very important strategic and economic roles. The trees are a valuable product for selling and a good material for manufacturing ships, weapons and defensive constructions. The Forresters own the largest part of the iron wood. And this fact annoys their opponents - the Whitehills.
As it was mentioned earlier, the Telltale's Game of Thrones shows the same story from five different sides. "Each character you play as is a member of House Forrester; either a direct family member, or a person in service to the House. Scattered across Westeros and Essos, each character will play their part in seeking to save House Forrester from destruction", - the developers have added.
And let's proceed to the most thrilling news about the forthcoming project. According to the official report, the Telltale's Game of Thrones will be available on such platforms as PC, PS4, PS3, Xbox One, Xbox 360, Mac and iOS. Unfortunately, any fresh information concerning the release date of the first episode in the series hasn't appeared yet.
So, what do you think about the latest Telltale's Game of Thrones details? Are you waiting for this adventure project?