This week, the Italian division of GameStop online store has revealed some quite interesting information. The possible Star Wars: Battlefront release date has been published on this site. Let us remind you that previously the EA's financial director - Blake Jorgensen - officially stated that the future shooter's release will take place at the end of 2015 and will be devoted to the premiere of the new episode in the movie franchise with the same title. And the Star Wars: Battlefront release date, which has appeared at GameStop Italia, is just another confirmation of Jorgensen's words. On the other hand, this information is not official, so you should take it with a grain of salt.
Well, as it has been specified on the GameStop Italia site, the Star Wars: Battlefront release date is scheduled for December 10th, 2015. Unfortunately, it has already been removed from the store, and, probably, at the publisher's request. Now, the Star Wars: Battlefront release date is indicated as "unidentified", that's why we'll have to wait for the announcement from the developers. The last one might happen at the upcoming Star Wars Celebration conference.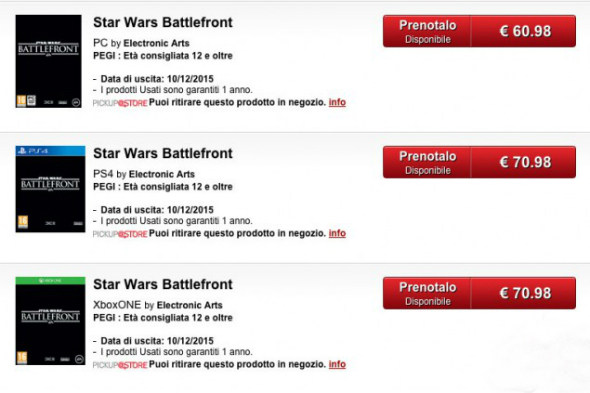 At the mentioned event, the project's debut gameplay trailer will be demonstrated. And already this Friday - on April 10th, - EA Canada and EA Redwood Shores studios will hold the first Star Wars: Battlefront test. Its members have been selected from those who filled in an appropriate form on the companies' sites. Of course, they have signed a special non-disclosure agreement. The future Star Wars: Battlefront test will last about 3-4 hours. However, it seems that we won't get any details from its participants in the near future, so all we have to do is wait for the official reports from EA.