The creators of the Lords of the Fallen action-RPG, which was released on PС and current-gen consoles at the end of October, - Deck13 Interactive and City Interactive studios - have shared the latest information about their further plans concerning the development of this franchise.
The first news is about the second instalment in the series. Thus, in the interview to one of the portals, the project's executive producer - Tomasz Gop - has said that the Lords of the Fallen sequel is being created now. In his letter, Gop has stated the following: "We're now working on vision and concepts for Lords 2". Unfortunately, no more details have been provided.
Along with the information about the project's continuation, a message about the release of Lords of the Fallen on iOS and Android has appeared in the game's official Twitter account: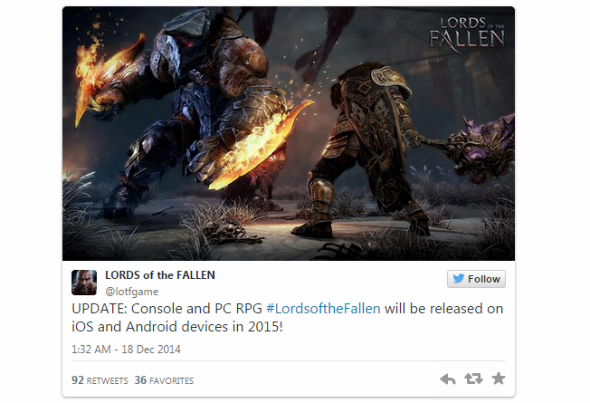 And again, any specified information, besides a year of the launch, hasn't been reported. So, we can only guess now whether Lords of the Fallen on iOS and Android will be a port of the original action-RPG or the developers will make some new project in other genre for the mobile platforms. We hope that Deck13 Interactive and City Interactive won't keep the fans waiting for too long and will reveal their plans very soon.
Meanwhile, we'd like to remind you that the versions of this game on PC, PS4 and Xbox One will get the first major DLC titled Ancient Labyrinth in January 2015. The information about the expansion's content is available here.
UPD.: The executive director of City Interactive - Marek Tyminski - has stated that the original game won't be ported to the mobile devices. The iOS and Android versions of this project will tell an absolutely new story, which is set in the Lords of the Fallen universe.