At the beginning of the last week, Overkill Software studio launched another Payday 2 DLC titled Hotline Miami, which was created together with the developers of the famous action in the top-down genre with the same name. Some players have come to the conclusion that such collaboration and the themed add-on is kind of a promotion for the sequel of the popular Dennaton Games' project.
Earlier, it was reported that the Hotline Miami 2: Wrong Number release date is planned for the Q3 2014. However, the developers have deviated from the announced terms and haven't managed to finish the creation of the upcoming game in time.
Thus, yesterday, the information about the scheduled Hotline Miami 2: Wrong Number release date appeared online. Dennaton Games shared this news in its project's official Twitter account.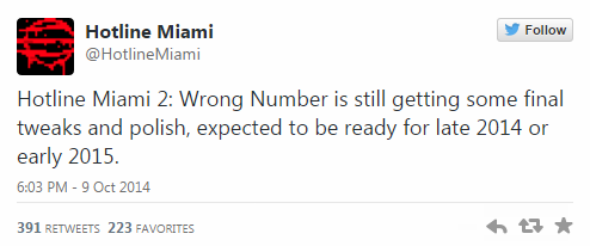 The sequel's creators have also apologized to the players who are waiting for the new instalment in the series and have stated the following: "Your patience is appreciated and will ultimately be rewarded with everything you hoped for and nothing like what you expected".
Let us remind you that the actions of the new part will be set before and after the original game's ones. The plot will include the stories told by both the positive and negative characters.
Are you waiting for the future project? Did the postponed Hotline Miami 2: Wrong Number release date upset you?