Only yesterday, we told you about the rumors concerning the possible launch of GTA: San Andreas on the last-gen consoles, and already today are hasten to share the freshest official information about this exciting action-adventure.
Thus, yesterday on the Rockstar's support page one of the franchise's fans put the question related to the disappearing of GTA: San Andreas game from Xbox Live shop. He asked when this project will be available again in the mentioned above Microsoft's service, and the company's employee answered him and revealed lots of interesting information. In such a way, not only GTA: San Andreas release date (on Xbox 360), but also some other details of the upcoming game's version have been revealed.
According to the fresh information, GTA: San Andreas release date is set for the 26th of October, i.e. in two days, and the game will appear in Xbox Live section, entitled Games on Demand. The new improved version of the project will have 720p resolution, as well as it will feature the enhanced draw distance and the new achievements, which we mentioned in our yesterday's news. Also, Rockstar's employee has told that the original game's version won't be compatible with GTA: San Andreas on Xbox 360, so the owners of the first one won't be able to transfer their achievements and will have to buy the improved version of this action-adventure, in case they want to experience the added features.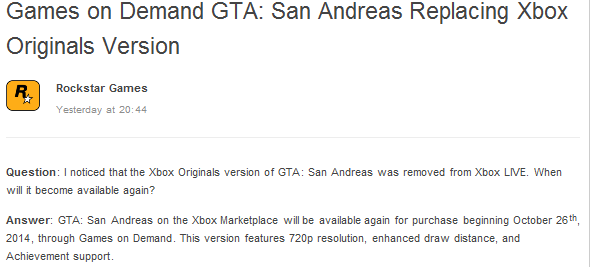 As for the possible PS3 version of the game, there is no new information.
Did you like this news? Are you glad that GTA: San Andreas on Xbox 360 will be available soon? Your comments are always welcomed at the bottom of the page.