Less that two days ago, the next instalment in the extremely popular Assassin's Creed series was officially announced, and already today we have some fresh information about its editions.
Thus, on the upcoming game's site, five bundles, in which this action-adventure is available to purchase, are presented. The first AC Syndicate edition - Standard one, - which can be bought for $60, includes the game's copy and an additional mission titled The Darwin and Dickens Conspiracy. The next AC Syndicate edition - Golden one - costs $30 more, but having purchased it, you will get all abovementioned items as well as the Season Pass (the information about which hasn't been disclosed so far) and an exclusive Baker Street outfit.
Besides, you can become the owner of one of three collector's bundles, about which we are going to tell you further. Thus, the first collector's AC Syndicate edition is titled The Rooks one, and it includes the game's copy, an exclusive box, an art book, an official soundtrack, a double-sided London map and two additional missions.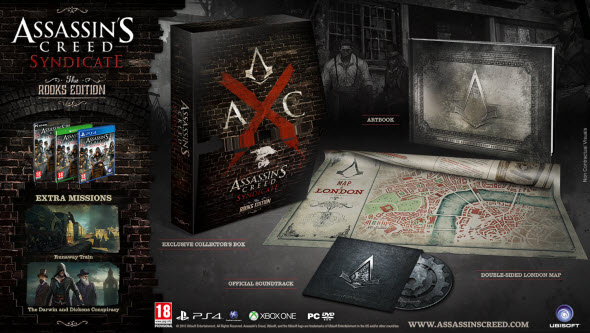 Also, the players are able to purchase The Charing Cross Edition. This bundle contains all content of the previous edition as well as 26 cm tall figurine of Jacob - one of the project's protagonists.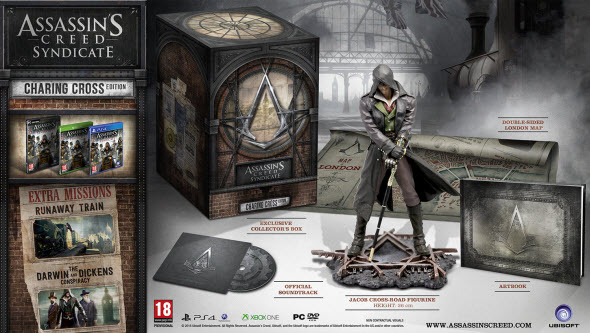 And finally, the latest AC Syndicate edition announced by Ubisoft is the one titled The Big Ben. It consists of all previous bundle's content as well as of the exclusive litography, the hip flask, the case and the Season Pass.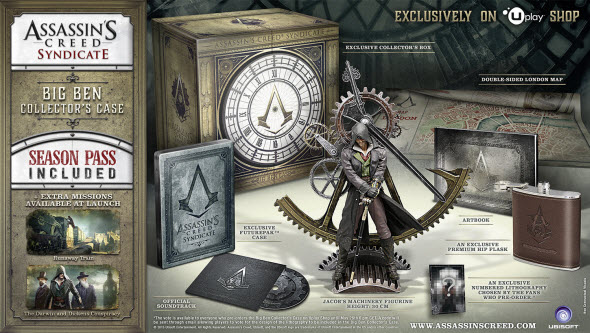 Are you going to pre-order one of these AC Syndicate editions? What do you think about the forthcoming game? Let us know below.