There haven't been any news about one of the Ubisoft's current projects - the game titled Tom Clancy's The Division - for a long time, but today, finally, we have some fresh and interesting rumors about this RPG to share with you.
Thus, yesterday, one of the Twitter's users with a nickname shinobi602, who is known because of his multiple leakages of the intriguing and closed (!) information about different popular games, told when the beta testing of Tom Clancy's The Division game will start. According to this insider, The Division beta is scheduled for March 2015, and firstly, it will be available for the owners of Xbox One. As for the exact period of the beta's holding or its type (open or closed), or its conditions, any additional information hasn't been revealed.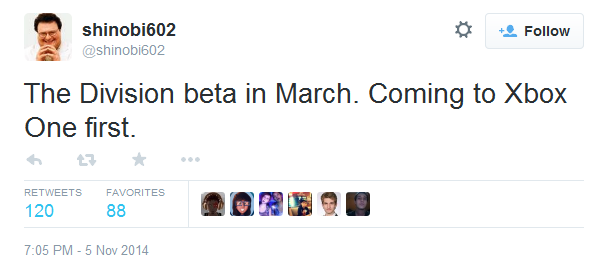 For the current moment, the developer hasn't commented on this information, but it has announced that the company is going to do its best in order to all three game's versions - PS4, Xbox One and PC - get the graphics of the highest quality. Whether they succeed in it or not, we'll be able to get to know only after the game's launch, and so far we just have to wait for the confirmation or the denial of the abovementioned information.
Let us remind you that Tom Clancy's The Division game will hit the stores sometime in 2015.
And what do you think about this rumor? Do you believe that The Division beta will take place in March? We'll be glad to read your replies below.