The winter is coming and so does the Talletale's Game of Thrones project. Lately, the developers have pleased their fans mostly with the information about two other popular adventure instalments - The Wolf Among Us and The Walking Dead. And the details about another one, which is based on the novel series and the famous TV show, have been kept in a secret until now. Thus, recently, the Telltale's Game of Thrones has got some fresh interesting news.
The studio's community and PR specialist - Laura Perusco - has written in her Twitter account that the Telltale's Game of Thrones, or to be more exact its first episode, will be launched at the end of the current year. She has revealed such information while answering to a question of a user who has asked about the forthcoming adventure's terms of release.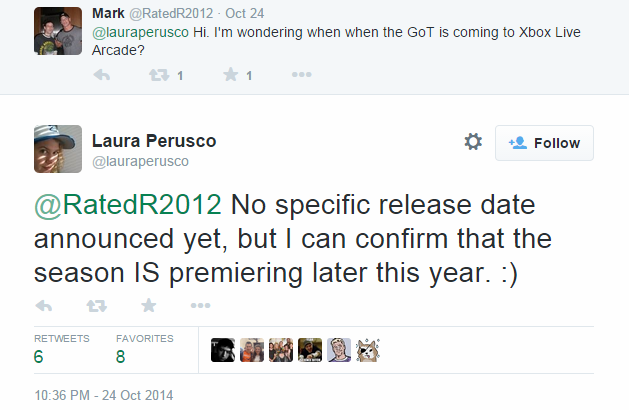 Earlier, many players, who anticipate the appearance of the Talletale's Game of Thrones, related its launch with the start of the TV series' fifth season. Let us remind you that the last one is a half of a year away from the premiere. The first episode of the next season is previously planned for April 2015. But as it has turned out, the video game will come out way earlier than the show.
At this moment, a little is known about the future project. The Talletale's Game of Thrones will be divided in several episodes and will tell about the book's characters - a clan titled The Forresters - the Stark's allies.