Dying Light game will appear on the shelves of the European stores at the end of the next month, that's why its developers have finally decided to present us Dying Light Season Pass and reveal its content.
Thus, the information about the game's Pass appeared yesterday on the project's official pages in Facebook and Twitter. According to it, Dying Light Season Pass, the full cost if which is $19.99, can be bought in Steam for $11.99 till the 2nd of January 2015. The Pass will include:
1) Ultimate Survivor pack, which consists of four new weapons and three special outfits;
2) two hardcore missions - Cuisine and Cargo. Here, you will have to explore two buildings, which were closed from the first days of the contamination, - the widely known restaurant in Harran and the rail yard. Naturallly, you'll have to fight against many hordes of very dangerous and powerful walking deads.
3) new gameplay mode - The Bozak Horde, which promises to rejoice you with lots of hot and exciting battles with zombies.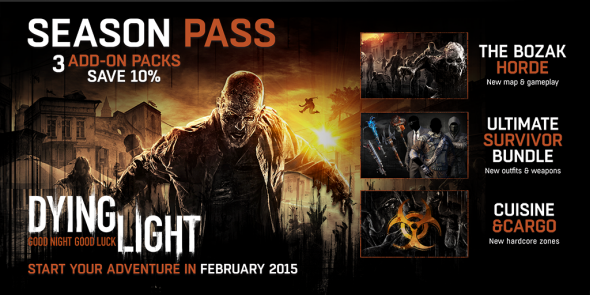 Having pre-ordered Dying Light Season Pass, you'll save 10% on the separate purchasing of all three abovementioned packs. The first game's add-on will be released at the beginning of February, 2015.
And what do you think about this Pass? Are you going to buy it? Let us know below.