A few days ago, we showed you the first long gameplay trailer of the next instalment in Uncharted series and today would like to share the freshest rumors about this upcoming action-adventure.
Thus, recently, apart from the general information about the project and its price, the Uncharted 4: A Thief's End release date has been found on the game's page in the British Tesco online store. According to this retailer, the supposed Uncharted 4: A Thief's End release date is set for the 31st of July 2015. We don't know where this store has taken this information, but it's quite possible that Tesco as many other retailers has an insider within Naughty Dog, who has revealed such an important data. But also there is a possibility that it's a typical marketing ploy in order to attract more gamers to the site.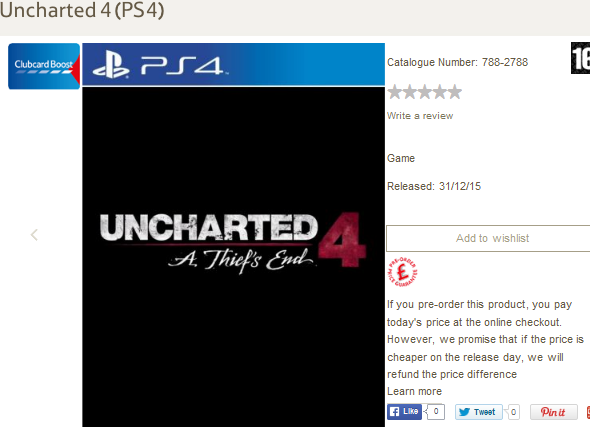 Anyway, we ask you to treat the abovementioned information with a grain of salt and wait for the official denail or confirmation from the employees of Naughty Dog. We hope that it will happen soon. 
We'd like to remind you that officially Uncharted 4: A Thief's End game will be released sometime in 2015 exclusively on PS4.
And what's your opinion about this? Do you believe the abovementioned Uncharted 4: A Thief's End release date is trustworthy? Write us below.