The legendary Twin Peaks TV series, which became a real sensation at the beginning of 90s, is back on the screens after 25 years. The project's creators - David Lynch and Mark Frost - and also an actor who played the main role in this drama - Kyle MacLachlan - have shared such news in their Twitter accounts recently.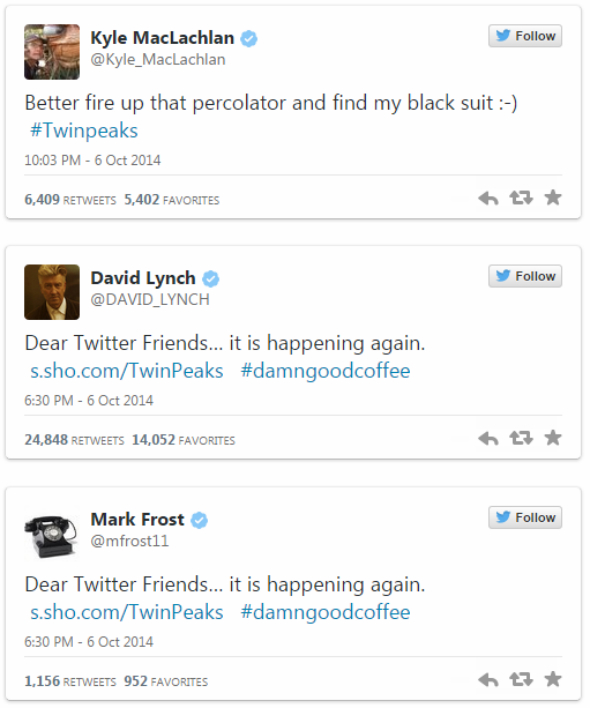 The Twin Peaks sequel will include nine episodes. The story will be set in the same provincial town, shown in two previous seasons. Finally, the project's fans will find out the answers to the questions, which have been bothering them for more than twenty years.
The Twin Peaks sequel is planned to be released in 2016. It's premiere will take place on the American premium cable channel - Showtime - after the broadcasting of two preceding seasons. By the way, the project's launch date hasn't been chosen accidently. Lots of people relate it to the phrase, which was said by the main heroine - Laura Palmer - in the end of the last episode in 1991: "I'll see you again in 25 years".
As it was mentioned earlier, David Lynch and Mark Frost will work on a scenery and shoot the new episodes of the Twin Peaks sequel. But it's still unknown if we'll see Kyle MacLachlan as FBI agent Dale Cooper. Though, the message in his Twitter account, which you can see on the screenshot above, teases that all the guesses may become true.
Let us remind you that the Twin Peaks TV series tells a story about a mysterious murder of a high school student - Laura Palmer. During the investigation, it turns out that a small town, in which the crime was committed, is not as peaceful and quiet as it seems from the first sight.