Almost two weeks ago, we told you when the new creation from Milestone company - RIDE game - will be released as well as showed the project's new trailer. And today, we'd like to share the freshest information about the game's demo and its Deluxe Edition. But let's talk about everything in order.
Thus, according to the official information, the RIDE demo starts today - on the 18th of March - and will be held only on PS4 and PC. In the frames of this RIDE demo, the players will be able to try one game's mode - Quick Race, - the mountain tricky track in Sierra Nevada and three types of motorbikes (Heavyweight, Super and Sportbikes). In order to prepare you for the current RIDE demo and show its content, the developers have published the game's fresh trailer, which we'd like to share with you right now:
Besides, as we told you earlier, RIDE Deluxe Edition has been announced. According to the information from the developers, this RIDE edition, which will be available only in the digital format, costs $31.99. It includes:
1) the documentary film titled "Why We Ride", which not only will show you such well-known motorcycle road racers as Kenny Roberts, Ten Simon, Troy Lee and many others but also will tell the stories of many riders, racers and pioneers of the sport, why they love this sport.
2) The game's Season Pass, which consists of 4 project's packs.
3) The making-of booklet with numerous behind the scenes stories about the game's creation. 
4) The official soundtrack with 17 songs in MP3 format.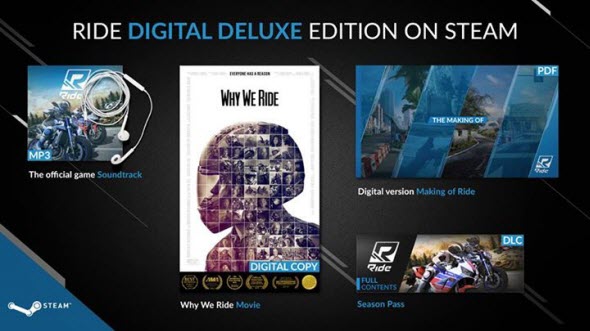 Let us remind you that RIDE game will be launched already on the 27th of March on the current and last-gen consoles as well as on PC.