Recently, Disney company has pleased all fans of the popular Pirates of the Caribbean franchise with the latest news. The studio has published the official press release, in which has finally revealed the synopsis of the upcoming instalment in the series, which has already become the legendary one. The Pirates of the Caribbean 5 movie, the shooting of which has already begun in Queensland (Australia), will continue telling about the adventures of Captain Jack Sparrow. This time, he will face his old enemy.
According to the synopsis, in the Pirates of the Caribbean 5 movie, the unlucky Jack Sparrow find out that in addition to all his disasters he's being hunted by the ruthless ghosts pirates. They are led by horrifying Captain Salazar. The last one managed to escape the Devil's Triangle, so now he's willing to kill every pirate on his way, including outrageous Jack. In order to survive, the main character has to find a powerful artifact - the Trident of Poseidon. Its owner gets some incredible power and can control all seas.
As you remember, earlier, there were rumors that a Spanish actor - Javier Bardem - will play the antagonist in the future motion picture. So, this information has got the official confirmation. Besides, the Pirates of the Caribbean 5 movie will include such new faces as Golshifteh Farahani (Exodus: Gods and Kings), Brenton Thwaites (Maleficent) and Kaya Scodelario (Moon, Skins TV series). Geoffrey Rush (Captain Hector Barbossa), Kevin McNally (Gibbs) and Stephen Graham (Scrum) will also join them.
The Pirates of the Caribbean 5 movie, which has the Dead Men Tell No Tales official subtitle, will hit the cinemas at the beginning of July 2017. The project's director - Jerry Bruckheimer - has published the first photo from the set in his Twitter account: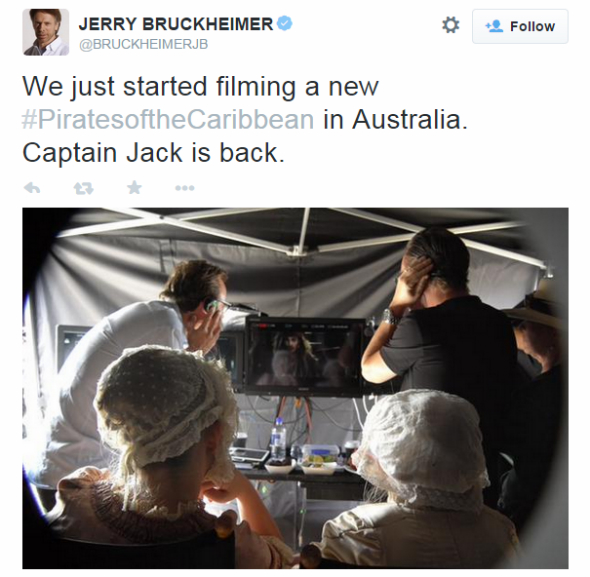 Do you anticipate the Pirates of the Caribbean 5 movie?