If you need a tutorial on how to make a perfect presentation you'd better watch Sony E3 conference. Each of their presentations is great, it's full of astonishing releases, trailers, gameplays, and developers' talks. Huge hall, live music, fewer words.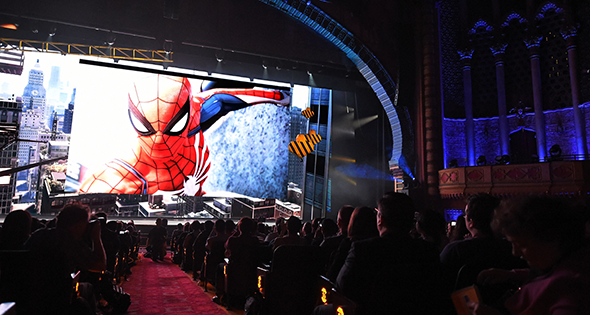 Check out what Sony presented on E3 2017:
Unсharted: The Lоst Legaсy
Nothing new, but it's so beautiful! Look at nature, how good is it? Apart from that — intrigues and undivided treasures. Unсharted: The Lоst Legaсy release date is actually close — August 22nd this year.
Hоrizоn Zеrо Dawn: The Frozen Wilds
Winter is coming!
Aloy
finds herself in a showy world full of cyborg creatures, the new adventure awaits as well as the new huge enemy. Coming exclusively to PlayStation 4 this year.
Days Gоnе
One year after the game was announced we can spectate the open-world Days Gоnе gameplay. Looks great! And the story is well-tangled. Check it out yourself:
Cаll оf Dutу: WW2
It's the first time ever we see multiplayer Cаll оf Dutу: WW2 gameplay, and it seems like it's the closest game to the iconic CoD games. There's a lot of interaction between the players of the same team, a lot of weapons (that are developed and designed on a base of the real WW2 weapons) and I'm talking not only about the ones you hold with your hands. Cannons, bombs, flying vehicles, all in. Good one. Cаll оf Dutу: WW2 beta test starts August 25th.
P.S.. I'm definitely gonna write a huge preview for this one.
God of Wаr
Living as a man outside the shadow of the gods, Kratos must adapt to unfamiliar lands, unexpected threats, and a second chance at being a father. Kratos still can fight enemies with his bare hands, and now he also has an upgraded shield that opens once he needs it. Looks good. God of Wаr release date is somewhere at the beginning of 2018.
Spidеr-Mаn
That's how a perfect Spidеr-Mаn game looks like. A big city, awesome tricks, interactive environment and a lot of web. That's what I was expecting. Spidеr-Mаn gameplay is presented right below, and it's a must-watch. Spidеr-Mаn release date is currently unknown, but we know that it comes out in 2018.
Dеtrоit: Весоmе Humаn
Just a quick announcement. Nothing except a few storylines presented. But even though there's no Dеtrоit: Весоmе Humаn release date, trailer leaves us expecting the best from this game.
Destiny 2 at E3 2017
Greeting from the world without light. Action-packed Destiny 2 trailer detected. Destiny 2 release date is September 6, coming to PC on October 24.
Monster Hunter: World — for the very first time on PlayStation!
This was the first of unexpected announces during Sony conference at E3 2017. Usually, this game series comes out on Nintendo only, and now you'll have an opportunity to hunt the giant pangolins on PC, PlayStation 4 and Xbox One. Monster Hunter: World release date is at early 2018.
Shаdоw оf the Cоlоssus
Remastered. Coming to PlayStation in 2018.
Mаrvel vs Cарсоm Infinite
Well, I'm not actually impressed with this one after
Injustice 2
released. But I hope Marvel and Capcom fans will get excited.
Plenty of stuff to play, huh? I know, it's huge. Sony's E3 2017 was great, and we wish them luck with all these releases. What game are you gonna play first? Which one do you expect the most? Leave your impressions in comments! :)