The greatest gaming event is approaching: E3 conference is close enough to publish its schedule and say a few words about publishers that will participate. There's a full schedule below, it's super handy to navigate through the E3 conference schedule, all the needed info is in one place.
Normally, all the live translations happen when people are awake. But due to the difference in time, there might be days when you'll have to apply your best stealth skills and watch translations at work (not that we recommend to do that). Good that it's 21st century already, and we can watch the recorded translations once they're over!
Prepare coffee and snacks: E3 2017 Conference participants
There's no EA on the official E3 schedule. That's because they rule their own show - EA Play - right before the E3 starts. EA Play 2017 starts on June 10 (right before E3 2017 starts), here's the schedule:
12 Noon PDT
15:00 EDT
20:00 BST
E3 2017 Schedule: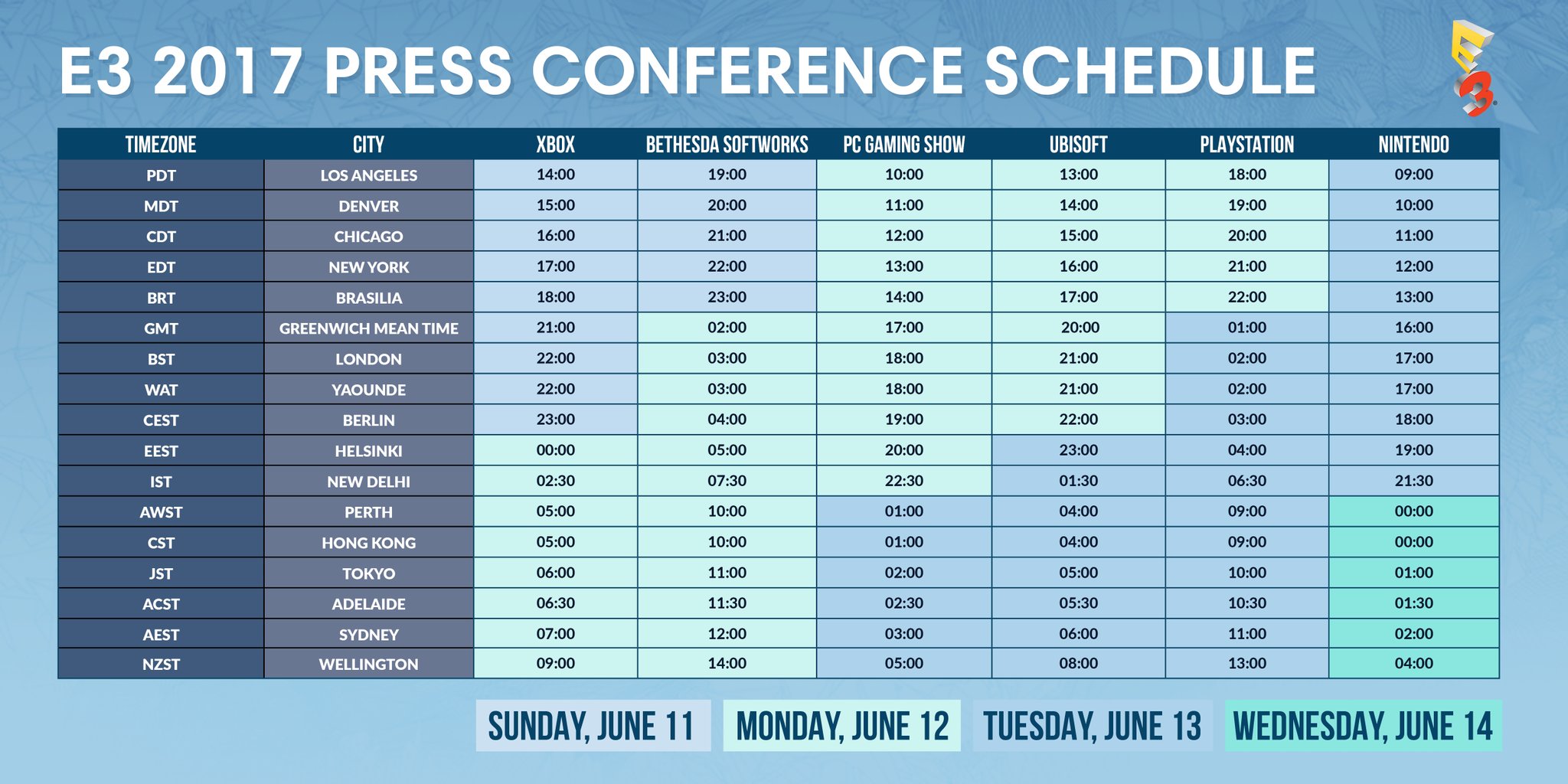 What We Expect From EA Play 2017
100% sure that the next Need for Speed Madden 18, FIFA 18 and Star Wars Battlefront 2 will have something to brag about. Some trailers or gameplay, who knows. Also, another Star Wars game is in development Amy Hennig at Visceral. There also must be something untold, something new… Maybe a Mass Effect Trilogy remastered?
What We Expect From the Xbox E3 2017 Press Conference
What's more interesting and exciting about Xbox part in E3 2017 - the presentation of a new system - Xbox Scorpio. The last few years were not productive at the aspect of gaming system innovations, and Sony got all the lights. Hope Xbox will have a good rebound this year.
What We Expect From the Bethesda E3 2017 Press Conference
There has been a new Wolfenstein game teased on E3 2016, so we expect more this year, maybe some gameplay. One more interesting thing is that Tango Gameworks were openly hiring for The Evil Within 2, so there might be some information about this one too. What we know for sure, there will be something about Skyrim on Switch, TES Online and Quake Champions. Maybe there are some revelations of a secret game that is currently in development? Who knows :)
What We Expect From the Ubisoft E3 2017 Press Conference
There's too much to say about
Assassin's Creed: Origins
. It already leaked, you can read every existing rumor for now in the
Assassin's Creed: Origins Preview
. Apart from this huge upcoming release, there's
The Maio/Rabbids RPG
,
Far Cry 5
and
The Crew 2
. Leave some place for an ace in
Ubisoft's
sleeve!
What We Expect From the PlayStation E3 2017 Press Conference
Sony presents a LOT this year: God of War, Days Gone, Detroit, Gran Turismo Sport, Spider-man and The Last of Us 2 will get their attention at E3 2017. Although, Sony haven't presented anything that touches nostalgia: maybe their surprise will be a new title in one of the classic franchises?
Some games also might take part in E3 2017:
Call of Duty WW2

Destiny 2

Red Dead Redemption 2

Death Stranding

What We Expect From the E3 2017 Nintendo Direct
Although Nintendo passes the press conferences recently, there will be an E3 Nintendo Direct presentation and lots of Tree House streams. We hope a lot, but last years there was nothing except disappointment from Nintendo. Probably a new Pokemon for Switch comes. We'll see.
Thank for checking out this article! Hope you'll have a great time watching E3 2017 :)