What happened during Microsoft presentation was some sort of miracle. It was like a rebound for all those times when we hear "ew" from gamers about it. Apart from the new console Xbox One X, Microsoft presented hella many games and some of them were SO unexpected like Life is Strange prequel, we were truly surprised. Although, there were some items like Crackdown — announced a million years ago and not released yet. But it's good Microsoft remembers about this game being in development :D

Let's see the highlights of Microsoft E3 2017 presentation: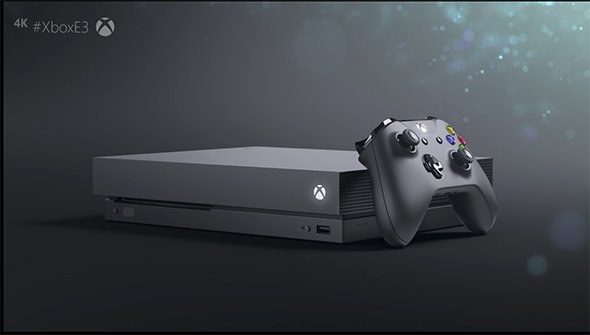 Meet Xbox One X
The most powerful console arrives: 4k resolution support, 1 TB HD, 12 Gb of GDDR5 with 326 gb/sec speed. Seems great. All the accessories for Xbox One or Xbox One S are supported as well.
If you already know you want this beast — you'll be able to buy one for $499 starting on November 7th this year. Here's the super-epic trailer, by the way. Directed by Michael Bay.
Xbox One Backward Compatibility: number of games increases
The title speaks for itself. By the end of 2017 Xbox One will support even more old games.
Forza Мotorsport 7 on E3 2017
Another Forza installment coming up, and although the gameplay looks clumsy the game looks good: all the weather effects and their impact on your speed and visibility, 4k resolution (that is super hyped right now) — it's good for Forza fans. Watch the trailer and Forza 7 gameplay and hope for the best.
Forza 7 release date is October 3rd this year.
Metro Exodus — fresh and bloody gameplay on E3 2017
It was 100% unexpected and it looks astonishing. Terrible creatures creeping out for some fresh blood, and the protagonist that fights with them for his life. A regular plot and a very strong performance. I'd play this one.
Metro Exodus release date comes in 2018. Expect more news soon!
Fighting the crocodiles in Assassin's Creed: Origins
State of Decay 2
It looks better than the first part, but it's still messy and clumsy. Microsoft still has some time. Good post-apocalypse survivals have always been popular, so it's their chance to shine. Spring 2018 comes the State of Decay 2 release date.
Do what you want, 'cause Pirates are free! Sea оf Тhieves announced!
Sea of Thieves video was the longest one Microsoft presented. It's so friendly and nice, the game has multiple mechanics and combines threats and treasures, also navy combat. And sharks. They feel your fear.
Sea of Thieves release date is set to early 2018.
Xbox One and Windows 10 Exclusive — Crackdown 3
Terry Crews as Commander Jaxon was just fooling around, that looked weird, then comes an action-packed Crackdown 3 gameplay.
November 7 this year is Crackdown 3 release date. After so many years waiting we finally will see what Microsoft proposes.
Life is Strange: Before the Storm (prequel)
For all those Life is Strange fans that were waiting patiently for anything related to the first and only part — here comes the prequel. The story is about Rachael and Chloe, and Life is Strange: Before the Storm release date is August 31st (the first episode).
Ori and Тhe Will Of Тhe Wisps
Ori and The Blind Forest sequel coming up: an astonishing game got the release date. Ori and Тhe Will Of Тhe Wisps comes on September 21st.
PlayerUnknown's Battlegrounds — Slapstick trailer
Ready or not, here it comes. Battlegrounds are gonna strike the console: Xbox One is the first. "Late 2017" is what the trailer announces.
Minecraft in 4k is what we deserve in 2017!
The funniest thing at E3 2017 Microsoft presentation is this one. Coming this fall. Here's the trailer. Still, can't believe they've done this :D
The general impression from Microsoft presentation — great, awesome, informative. But it seems like they didn't have enough time to work with the way to actually present the great job they've been doing. It doesn't matter a lot, but it's still important to choose the right fonts and effects. What game are you gonna play first? Which one do you expect the most? Leave your impressions in comments!
Hope this post was informative for you! Wait for more E3 2017 posts to appear :)