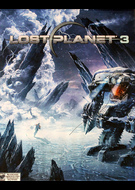 Lost Planet 3
You can buy this product on:

$18.99

$24.99
Lost Planet 3 game is the third-person shooter the events of which take place a long before the first game's instalment on desert planet of E.D.N. III where the colonists will explore areas fighting with Akrid, aliens indigenous of E.D.N. III. You can download for free Lost Planet 3 after it will be released on different sites during some specials.
Lost Planet 3 game, developed in the genre of third-person shooter, was released a month ago - at the end of August, and now its developers, Capcom company, have presented several packs with additional game content. So, all extra content, previously available exclusively for those who have pre-ordered the game, is now divided into seven packs and now everyone can buy them.
by Anna Stepko
2013-10-03
4329 views
Lost Planet 3 will be released soon (this third-person shooter is scheduled for August 30 in Europe), but in order to we do not forget about this event, the game's publisher, Capcom company, has prepared for us fresh Lost Planet 3 screenshots, artworks and a new gameplay video. Let us recall that Lost Planet 3 game is a prequel to the previous two parts of this shooter.
by Anna Stepko
2013-08-19
5788 views
Yesterday, Japanese Capcom company in collaboration with Spark Unlimited (the company which develops the game) published a new small Lost Planet 3 gameplay trailer and shared some details about the multiplayer mode of this third-person shooter. This two-minute Lost Planet 3 gameplay trailer, which you can watch below, shows us the struggle of the protagonist with the giant Akrids - the monsters that live in this snow-covered desert (in the opinion of the colonists) E.
by Anna Stepko
2013-06-20
4276 views