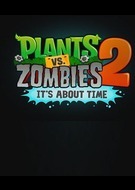 Plants vs. Zombies 2: It's About Time
Release date
The Information is specified.
Are you a fan of Plants vs. Zombies game series?
by Anna Stepko
2014-09-30
10889 views
10 days ago, we told you that thanks to the program titled Game Time from EA all people were able to play Battlefield 4 without any charges, and today we would like to tell about another one game, which is free to try for some time. Plants vs. Zombies Garden Warfare game will be launched tomorrow in NA and two days later in Europe, and if you still haven't decided, whether to buy this project or not, today you have a unique opportunity to try this game, not having payed.
by Anna Stepko
2014-08-18
4623 views
Just a week ago, PopCap Games company launched the PC version of the popular shooter and tower defense, and today the studio is ready to please its fans with the new free Plants vs. Zombies: Garden Warfare DLC, which will be available for download on Xbox One and Xbox 360 today - July 1st.
by Olga Smiyanenko
2014-07-01
11133 views