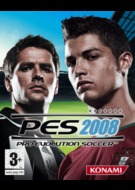 Pro Evolution Soccer 2008
Pro Evolution Soccer 2008 is a football simulator from Japanese Konami studio. In this version the developers implemented new AI system - Teamvision, that is changes according to your gaming style, and also improved graphics and menu. If you fond of football, then you should try this game and find free download of PES 2008 or pay for it.
Release date
The Information is specified.
As it was reported yesterday, Konami company officially announced the launch date of PES 2016 demo. The release of the new part in the popular sports simulator series is 1,5 months away, but already the following week the players will be able to appraise how it will look like.
by Olga Smiyanenko
2015-08-04
2687 views
The release of the new instalment in the popular football simulator series - Pro Evolution Soccer - will take place tomorrow - on November 13th. Together with it, the developers will launch the first project's patch, which will bring several changes both to the teams and the game in general.
by Olga Smiyanenko
2014-11-12
4765 views
Before the upcoming release of the new part in the Pro Evolution Soccer series, Konami studio has shared the news about a pleasant bonus, which some players will receive, and has announced the PES 2015 soundtrack. Thus, the interesting information has appeared on the studio's official site recently.
by Olga Smiyanenko
2014-11-06
4370 views