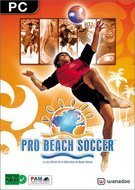 Pro Beach Soccer
You can buy this product on:
$9.99
Pro Beach Soccer will allow to become the greatest player in simple way, even if U R not a sportsman. If you like football or soccer, or want to relax with your friends, just buy and download this awesome Pro Beach Soccer game! Also you can try to find some Pro Beach Soccer free download versions. This game awarded as the best sport football simulator of the 2012!
Release date
The Information is specified.