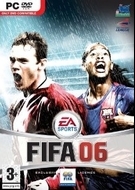 FIFA 06 game is a simulator of football, that significantly differs from the previous versions of the games from this series. In FIFA 06 game the developers rewrote about a half of the source code and gave more control to player. Also in this version of FIFA the Career mode was redesigned and it got a lot of brand-new and exciting features.
Release date
The Information is specified.
It's been two weeks from the release of the next instalment in the popular sports simulator series. The new project, our review of which you can read by clicking on this link, has managed to receive both the positive and the negative feedbacks.
by Olga Smiyanenko
2014-10-09
4207 views
Last week, we showed you the official European FIFA 15 box art, and now are ready to share an American cover and the new trailer of this game, which Electronic Arts' employees presented a couple of days ago. First of all, we are happy to share FIFA 15 box art, which will appear on the game's copies, destinated for NA.
by Anna Stepko
2014-07-21
4358 views
FIFA 15 game will hit the stores in a bit more than two months, and we haven't still seen the official cover of the new instalment in this football simulator. The creators have obviously understood this unpleasant mistake, and that's why they published the official FIFA 15 box art yesterday.
by Anna Stepko
2014-07-15
17306 views