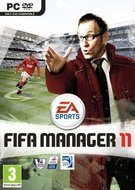 FIFA Manager 11 is a sport management simulator, where you need to be strong and wise football manager. This version was released in 2010 and added online mode, that allowed 8 player to play together. If you like football and have leadership qualities, then you obviously need to download FIFA Manager 11 for free or at its original cost.
Release date
The Information is specified.
Even games with the long history and a great fan base sometime are going to die. FIFA Manager series soon will join the list of such projects.
by Tanya Knysh
2013-11-25
3992 views