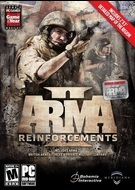 In ArmA 2: Reinforcements you will be able to experience completely new military battle. ArmA 2: Reinforcements for PC adds two new factions and lot of exciting hours of multiplayer combat. If you like wars and shooter and want to be the part of the great military combat, then you obviously need to download ArmA 2: Reinforcements.
Release date
The Information is specified.
Today we have got two good news for the fans of Arma series - about second game's campaign episode and fresh Arma 3 update.  Thus, yesterday it became known that Arma 3 game would get the second part of the story campaign, entitled Adapt, on the 21st of January 2014.
by Anna Stepko
2013-12-05
3548 views
Arma 3 game, a tactical shooter from Bohemia Interactive Studio, was launched in early September and hadn't a single player mode, the reason of what, according to the Studio's employees, was the delays in the project's development. And yesterday Bohemia Interactive began to correct this situation by announcing the first Arma 3 DLC, which is nothing more than a single player mode, divided into three parts.
by Anna Stepko
2013-10-11
5440 views