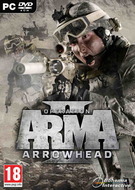 ArmA II: Operation Arrowhead
ArmA 2: Operation Arrowhead is an expansion pack to the ArmA 2 military tactical shooter. If you like wars and shooter and want to feel yourself as a part of great army, you obviously should download ArmA 2: Operation Arrowhead for free or at its original cost. In the expansion pack you will get new multiplayer maps, equipment and tasks.
Release date
The Information is specified.
Today we have got two good news for the fans of Arma series - about second game's campaign episode and fresh Arma 3 update.  Thus, yesterday it became known that Arma 3 game would get the second part of the story campaign, entitled Adapt, on the 21st of January 2014.
by Anna Stepko
2013-12-05
3588 views
Bohemia Interactive, famous by Arma series and the last year's scandal with Greek authorities, is preparing to launch Arma 3 alpha version. Those who made a pre-order in Steam are invited to participate in the project's testing.