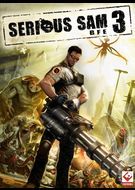 Serious Sam 3: BFE
You can buy this product on:

$39.99
Serious Sam 3: BFE game is a first person shooter with very serious protagonist. This game was released in 2011, but it is a prequel to the first game of the series. The Serious Sam 3: BFE game is divided into 12 levels, and in each one you should fight very strange and sometimes even absurd opponents in near future.
Release date
The Information is specified.
Croteam designed a very unusual Santa Claus this year. He does not have a list of good and bad children, and his cannon produces the discounts artillery fire!