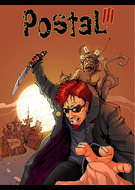 Postal III
You can buy this product on:

$1.99

$3.42
Postal III game is a third-person shooter with ironic scenario and lot of weapons. It is a sequel to the previous game of this series, where you are playing a role of Postal Dude, that moves to another city with his dog and is trying to find new job. But in Postal III game instead of job he will find lot of adventures and fights.
Release date
The Information is specified.