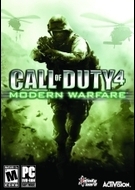 Call of Duty: Modern Warfare 4
Shooter is a game genre where we need to react fast and have not only good movements precision, but also the ability to calculate the enemy's behavior and knowledge about tactically important points and benefits of a different weapon types. Call of Duty 4: Modern Warfare game released in 2007 and immediately became one of the best in its genre. In addition to the single mode, where you will participate in various battles and take part in missions, you can compete with other players via LAN or Internet. You can download Call of Duty 4: Modern Warfare for free via Steam or other store selling digital games' licenses.
Release date
The Information is specified.
The first CoD: Advanced Warfare DLC titled Havoc will hit Xbox One and Xbox 360 on January 27th. Due to this event, Sledgehammer Games and Activision studios have shared the details of the future add-on as well as have shown its preview.
by Olga Smiyanenko
2015-01-14
5474 views
Today, we'd like to share two news about the last released instalment in the Call of Duty shooter series. Thus, the other days, the project's developer - Sledgehammer Games - published the new CoD: Advanced Warfare trailer dedicated to the anticipated Zombie mode, which will come out by parts.
by Olga Smiyanenko
2014-12-22
6189 views
Call of Duty: Advanced Warfare game was launched only a week ago, but its developers don't sit idly by and have already been working actively on the multiple improvements and the fixes of the bugs, which have been noticed by the players.  Thus, a couple of days ago in Blog section of the studio's official site, the employees of Sledgehammer Games published an article, in which they not only said thanks to all gamers for the long wait but also told about the game's first update, which is already under development.
by Anna Stepko
2014-11-11
3370 views