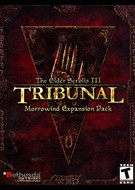 The Elder Scrolls III: Tribunal
Among all RPG games one of the most famous is The Elder Scrolls III: Tribunal. Although the game was released in the 2002, it still remains one of the most popular and beloved around the world, despite the constant release of the new projects. There're variety of weapons, unique locations, and also fun and exciting storyline that is wanted to go through over and over again! If your dream about traveling, fighting with the Evil and feeling combat excitement - the The Elder Scrolls III: Tribunal game is for you! You will be able download The Elder Scrolls III: Tribunal free during the events time in the digital stores.
Release date
The Information is specified.
As you remember, before the New Year's holidays, Bethesda stated that the versions of The Elder Scrolls Online on PS4 and Xbox One will be launched in 2015. And yesterday, the developers finally announced the exact release date of this project on the above mentioned platforms as well as told about the changed subscription system.
by Olga Smiyanenko
2015-01-22
3240 views
The release of the MMORPG titled The Elder Scrolls Online on PC and Mac took place this April. As it was reported originally, the owners of the current-gen consoles had to try the new project in summer, however, later the developers postponed its launch for a year.
by Olga Smiyanenko
2014-12-26
3314 views
During the QuakeCon event, which was held in Dallas last weekend, Zenimax Online Studios showed several new The Elder Scrolls Online videos, which reveal the details of the next game's update. So, in the first The Elder Scrolls Online video, the project's creative director - Paul Sage - presents a short preview of the new justice system.
by Olga Smiyanenko
2014-07-21
3939 views